Winter 2017
Winter started off for me this year as our first snow storm hit in November as I was visiting my painting friend Julie for the weekend at her beautiful waterfront home in Perth. She invited me along with 2 other painting friends, Jill and Linda. We ate great food, talked and laughed a lot and painted in Julie's newly renovated studio space. I completed a fall Algonquin Park painting (20" X 20") based on a photo I took a month earlier.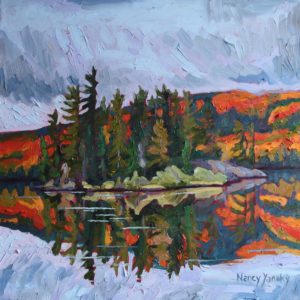 I later did some fall birch scenes (36" X 48"):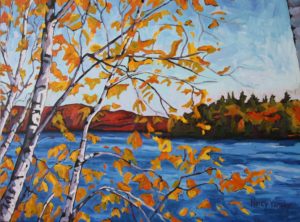 During the Christmas Break, I was grateful to have some time to visit friends and family. I met with a group of very good old high school friends for lunch. We used to spend many weekends together during our college and university days.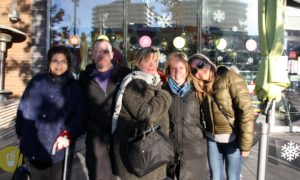 This winter, our family did not escape south, but we did do a mini getaway to Wakefield, Quebec, where we stayed at a charming old mill. I skied on the cross country ski trails of Gatineau Park, which you could access right outside the mill's doors. My husband and son Calum went downhill skiing. Calum came with me one morning to check out the cross country trails.
Calum skiing in Gatineau Park: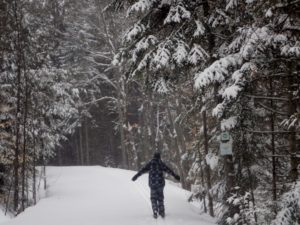 Me on the ski trails: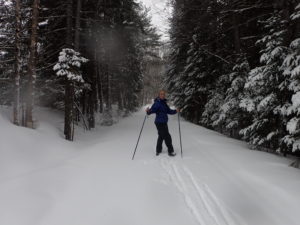 Some charming winter Wakefield street scenes:
Lately I have been painting some fall hiking scenes and am really happy how they have turned out. I am planning to continue to do more versions of different sizes and shapes. Hiking Lookout: 30" X 40"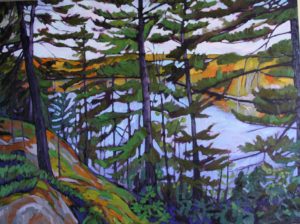 This coming April 8th from 10am -6pm I will be at an art opening in Manotick at the framing place formally known as Telco. I will have a winter painting of a house from Quebec there, along with other artists who have painted with Gordon Harrison.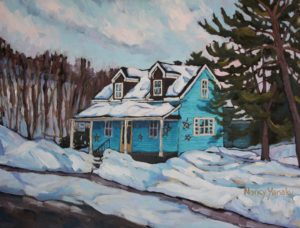 I am feeling happier now that our daylight hours are noticeably longer. I am hoping I will find more time to paint after work in the natural light. Spring is here on the calendar, but I can't wait until things start to look bright green outside and blossoms start appearing. Spring…Bring it on!