This winter started out very mild with little snow. Our family ended up going to Cozumel, Mexico to help my parent's celebrate their 50th wedding anniversary. There were 15 of us all together with my two sisters and their families. One of my favourite moments was going diving with 2 of my kids and a nephew. The kids took diving lessons and then I joined them on 2 dives. We saw some interesting coral formations, lots of cool angel and parrot fish as well as a few nurse sharks.
The whole Yanaky gang: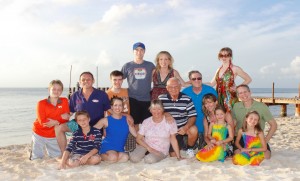 My two sisters Tanya and Lexie during our morning beach walks: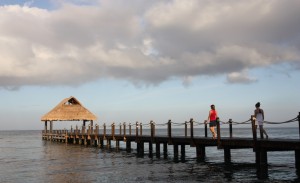 I continued to paint another but larger version of my fall Algonquin Park Lookout series. I finally started to paint some winter scenes after we received some snow and cold weather in February. I really love looking at shadows in the snow created on a sunny winter's day.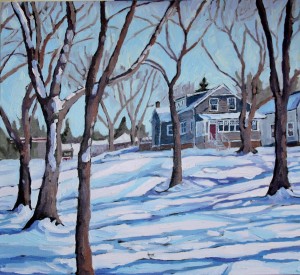 In February I also was asked to give a talk a presentation to the Greater Napanee and Area Arts Association. I brought in some paintings and shared the story of how I became a painter and some of the techniques I use. I think it went well and I hope they enjoyed it.
Towards the end of February, my husband and I escaped for a weekend getaway to Wakefield Quebec. I was really hoping for some sunny weather to get some good winter painting references, but unfortunately it was over cast, or raining the entire weekend! I did manage to get a few good shots that I will have to estimate where the shadows would fall if it had been sunny.
The Wakefield Mill where my husband I stayed for a weekend getaway: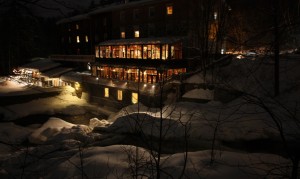 I also did manage to get out a couple of times, to go cross country skiing in Gatineau Park, despite the weather :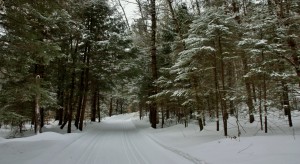 I feel inspired to paint some of the cute snow covered village houses: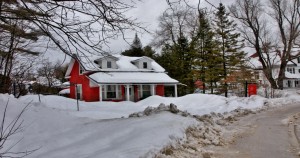 This coming June I will be particiapting in the Art Among the Ruins Art Show: