I can't believe summer is already half over! July was an eventful month for me starting with celebrating Canada's 150th birthday in Ottawa with my daughter and her boyfriend, followed by an Art Retreat in the Laurentians of Quebec at landscape painter Gordon Harrison's lake house. This year, as last, I brought my daughter Madelaine and we had a fantastic time painting, socializing, walking, swimming, and kayaking in an unbelievably beautiful setting.
Here is a view we saw while kayaking…might make a beautiful painting!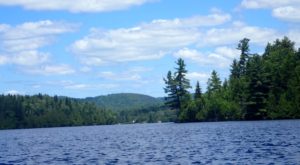 Here I am with Gordon and his partner Phil Emond inside their beautiful lake home: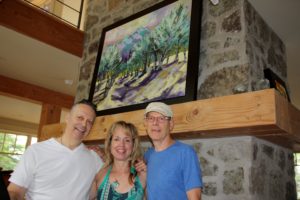 Here is the gorgeous studio we painted in:
Here is a large painting I did of some islands and water: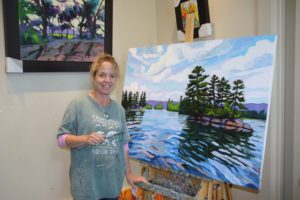 I managed to get a little painting time in before heading off for my annual Georgian Bay kayaking trip with my sister Tanya.
Here is Gravenhurst Tree, 20" X 40":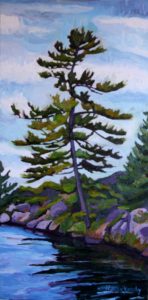 Last week I took a number of photos from Killarney Provincial Park, south to Byng Inlet on my 6-day paddle with my sister. I am hoping to find some painting inspiration from a few of the shots. Unfortunately it was rainy the one day my sister and I had to hike in Killarney. We wanted to hike to "The Crack," to see the beautiful views, but only were able to get 2/3 of the way up when it started thunder and lightning and the rocks got very slippery.
Here I am in the rain with The Crack within view behind me: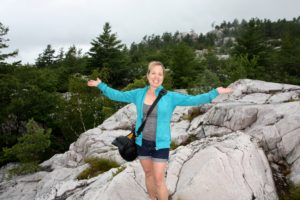 Here I am at a beautiful spot called Sunset Rock in Killarney: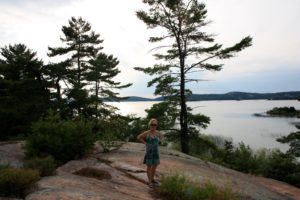 Here is a pretty, but rainy view of The French River in the Old Voyageur route on day 3 of our paddle: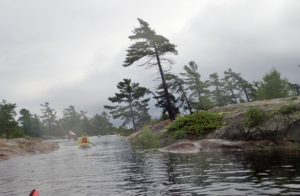 Next week, in honour of Canada's 150th birthday, my husband Dave and I are headed on a camping trip for about 2 weeks around part of Lake Superior to hopefully see Pukaskwa National Park for a few days. I wanted to pick a National park that we had never been to before. I am a little nervous because we could not make reservations, as this park is first- come, first-serve only. Wish us luck for getting in! I will be on the lookout for some beautiful painting views and inspirations.