Spring just rushed by, being busy with work, family, and gardening as well as creating. I just tried to fit as much as I could, taking advantage of the longer hours of daylight hours. I just LOVE the light!
In April, I participated in a weekend opening and art show at Manotick Framing Gallery, along with a number of other people who have painted with Gordon Harrison. It was a fantastic turnout, and many people sold their work. I was completely surprised when a client who found me on the internet last year, showed up with her lovely family and purchased my little turquoise Quebec house that I had at the show.
Here is a photo of some of the artists, the gallery owners and Gordon Harrison and Phil Emond.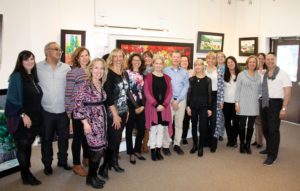 During the early spring I continued to paint more versions of the Hiking Lookout, which was inspired by a fall hike I did at Rock Dunder, just north of Kingston. This large painting (48 " x 48") will be part of show I am participating in at Kingston Glass Gallery opening on August 5th.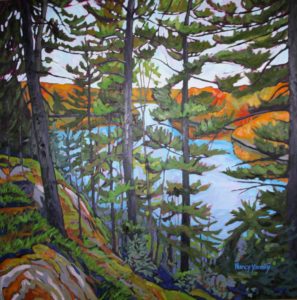 My husband Dave and I did a drive up to Muskoka to drop off some paintings to Red Canoe Gallery in Port Carling and enjoyed exploring some of the areas waterfalls during our weekend getaway.
With all the rain we had this spring, the water was really flowing! These photos were taken at a spot called High Falls in April: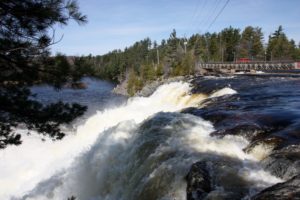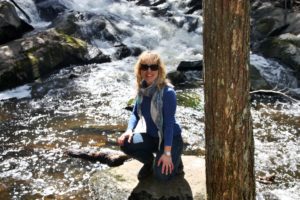 In June, I went on Toronto Botanical Garden's 30th Annual Through The Garden Gate Garden Tour with my Mom, sisters and aunt. We look forward to going on this tour each year as we all love looking at beautiful gardens and properties.
Here is a photo of my 2 sisters Tanya and Lexie at one of the gardens: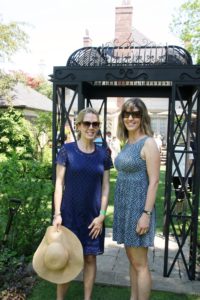 Currently I have been working on a few versions of an earlier Summer Marsh painting that I did last summer inspired by a kayaking trip that I did with my sister Tanya. My original Summer Marsh was purchased as a gift to someone returning to New Zealand as a memento from Canada.
This photo shows the first Summer Marsh on the right and a larger version (36" X 36" ) at a inked-in stage. The larger version will be in the Kingston Glass Gallery Show this August.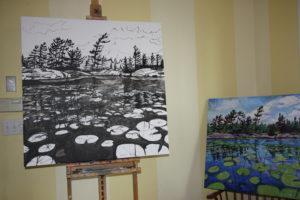 In a few days I will be headed out with my daughter Madelaine to an Art Retreat in Quebec at Gordon Harrison and Phil Emond's Lake House in the Laurentiens. I look forward to these retreats all year! When I come back I have just a few days at home before heading out for a week long kayaking trip with my sister Tanya. We will be paddling from Killarney on Georgian Bay south to Byng. I am praying we get good weather! Wish us luck!