Wow…summer started off with a heat wave and it seemed to last for weeks. We don't have air conditioning in our house, so we are really feeling it!…Good thing we have a pool.
In May, I did a weekend trip up to Muskoka with my husband and parents. We stayed at the JW Marriott in Port Carling. We had rooms on the 4th floor that had this fantastic adjoining balcony that looked out at Lake Rousseau. We had a great time sitting out there sipping wine and taking in the view. My eldest son, David drove out to stay with us as well, as he recently got a job in Espanola and was staying in Sudbury, which was not too far a drive away for a visit. Here is a photo I took of our family out on our deck: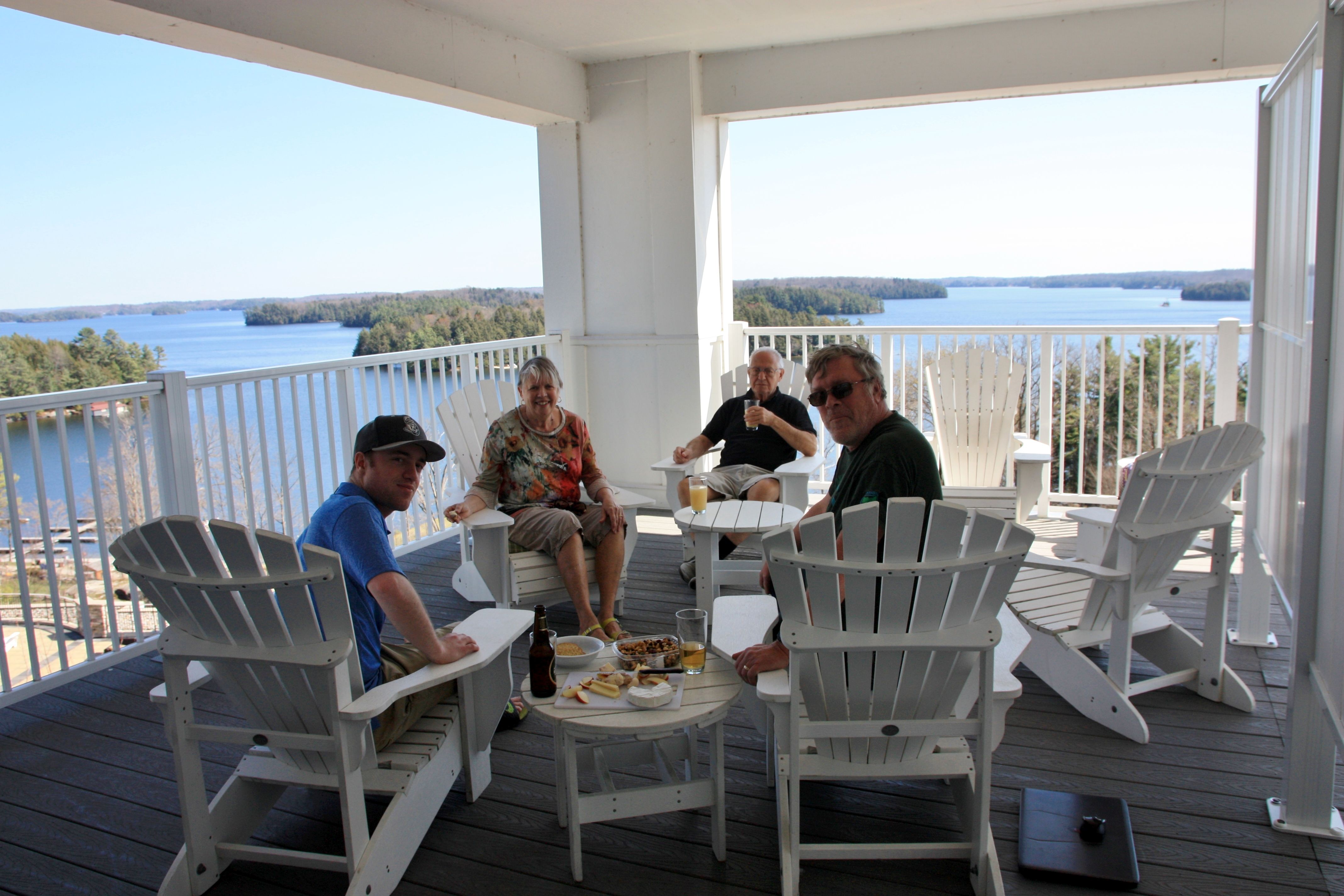 Here is a photo of a morning view from the balcony!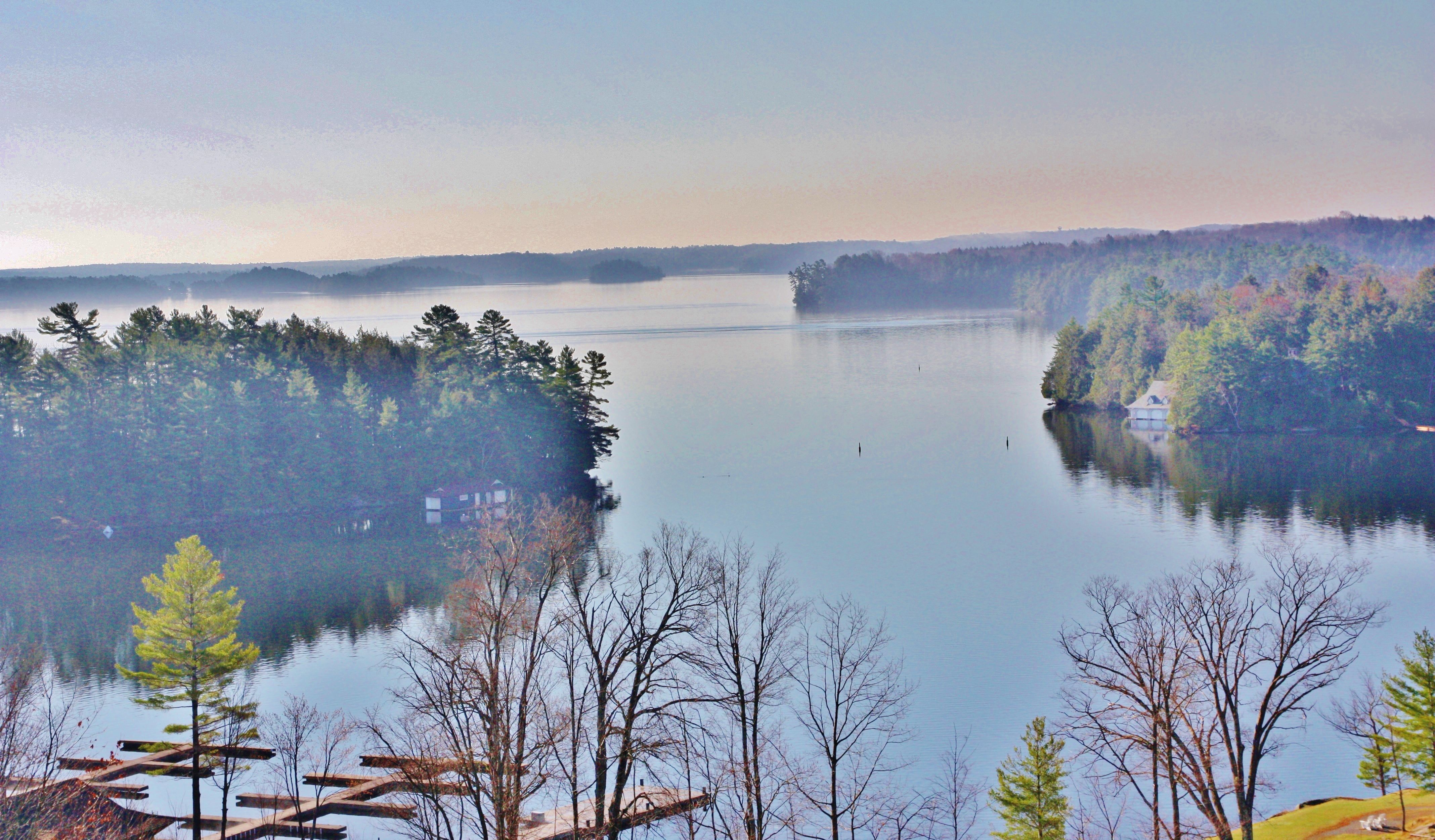 The view inspired me to do a couple of paintings of this scene. The Marriott was kind of enough to send me some photos of the same scene taken a few weeks later when the leaves were out on the trees. Here is one of the paintings:
I also dropped off a number of paintings to The Red Canoe Gallery that weekend.
Just before the opening of the Killarney Mountain Lodge, my husband Dave and I drove up to Killarney to drop off some paintings for their dining area. I chose paintings that I did of that area after visiting last summer on a kayaking trip with my sister Tanya. Here is a photo from the dining hall at the lodge of my Sunset Rock painting: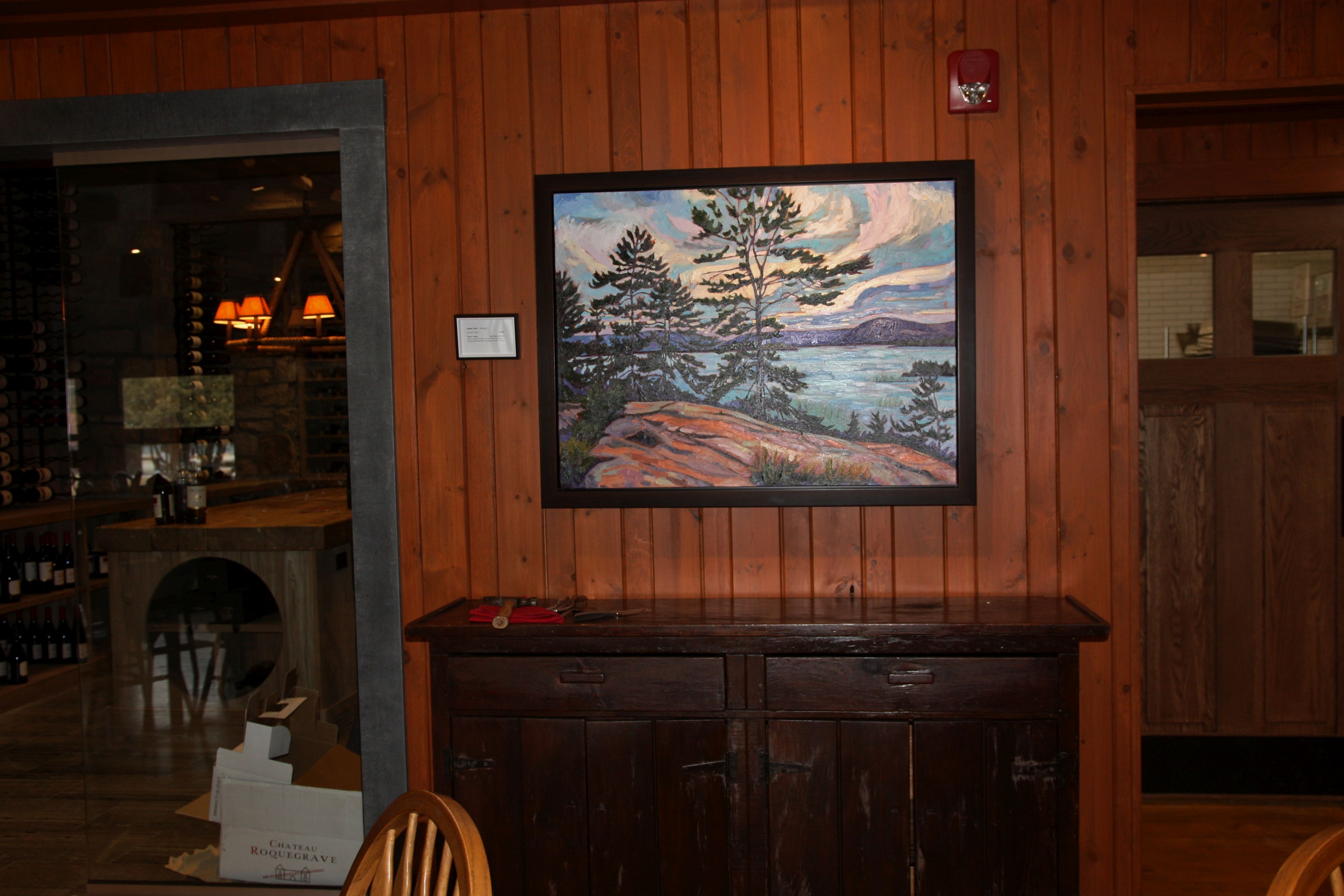 The lodge was undertaking a large expansion and we were kindly given a tour of the construction site. A beautiful new building, housing a restaurant, conference rooms and a gym was being built that had fire places and a view to die for.
At the beginning of July, I went on my annual Art Retreat to landscape painter, Gordon Harrison's Lake House in Quebec. This year, my daughter Madelaine, as well as my sister Lexie and her friend Meredith came. We had a fantastic time, taking in the gorgeous lake and mountain scenery and spending stimulating creative time painting with Gordon and other artists.
Here is a photo of our group with Gordon Harrison and Phil Emond in the studio: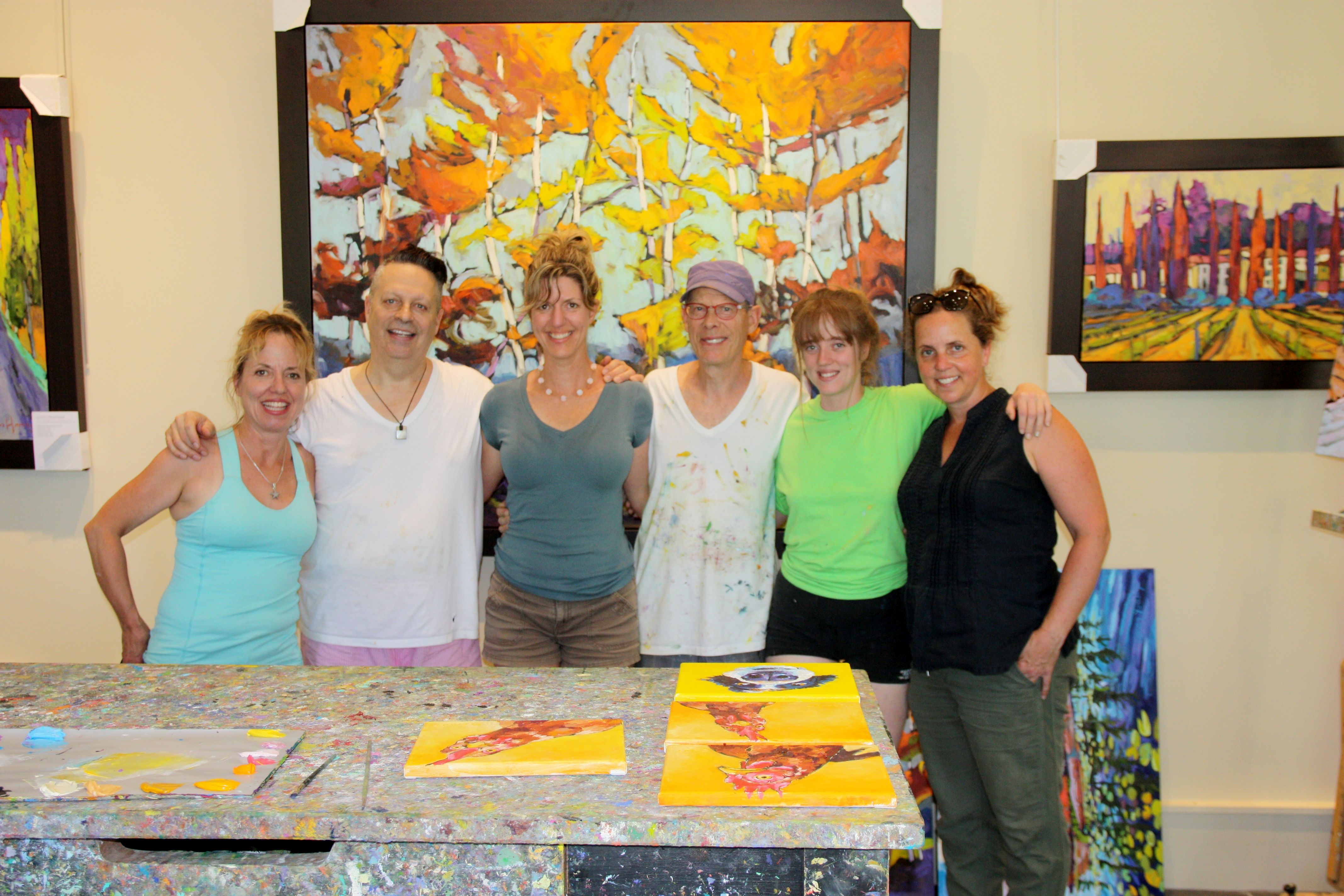 Here is one of the paintings I did: a moody morning French River scene, where I was trying new colour combinations for me, encouraged by Gordon. This was based on a scene I saw kayaking one stormy morning last year with my sister: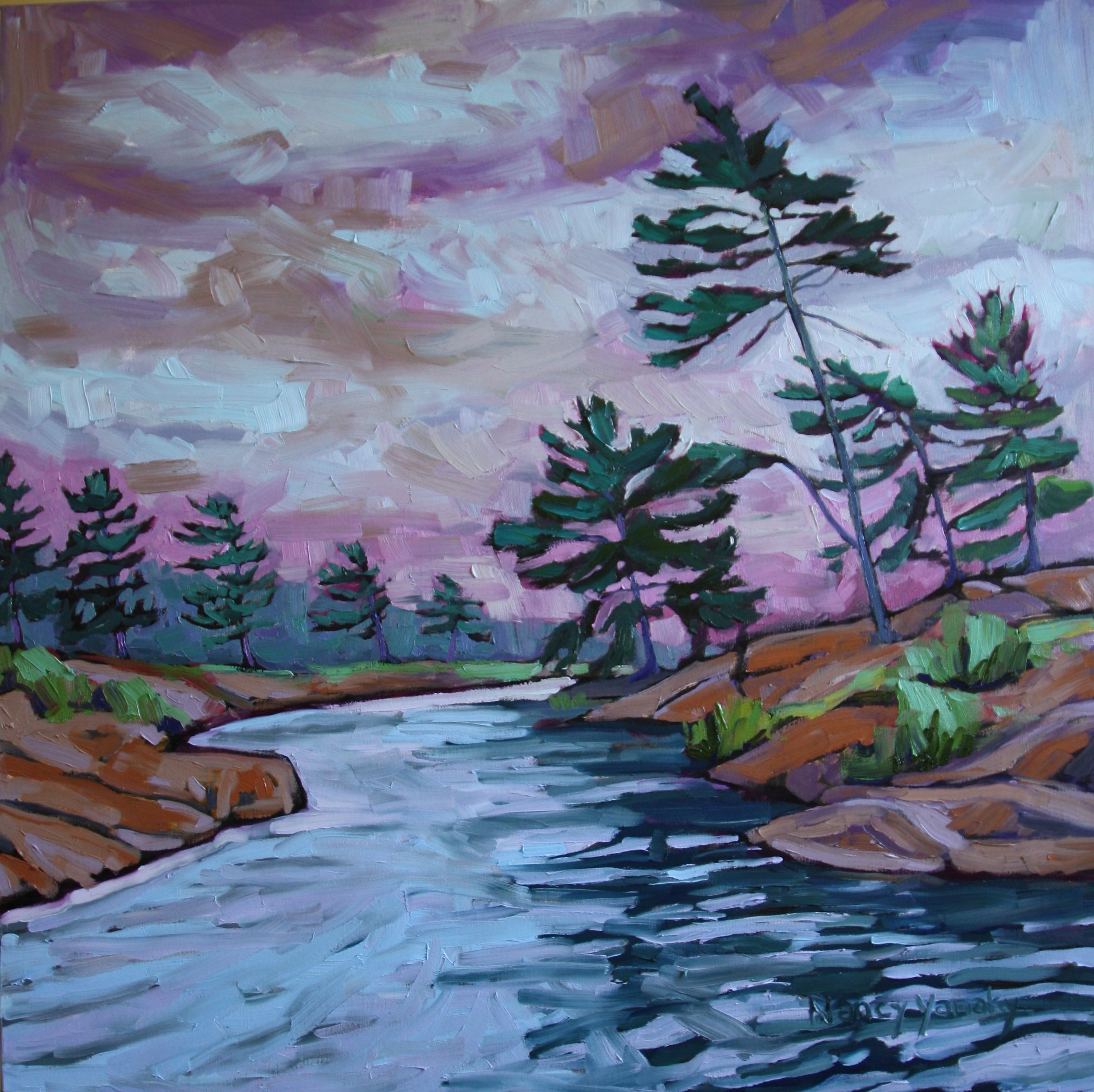 Currently, my work is on display at Kingston Glass Studio and Gallery on Queen Street in Kingston. Some of my paintings from my Lake Superior trip are there. The show runs until August 18th. https://www.kingstonglassgallery.com/
Here are a couple of photos of the show: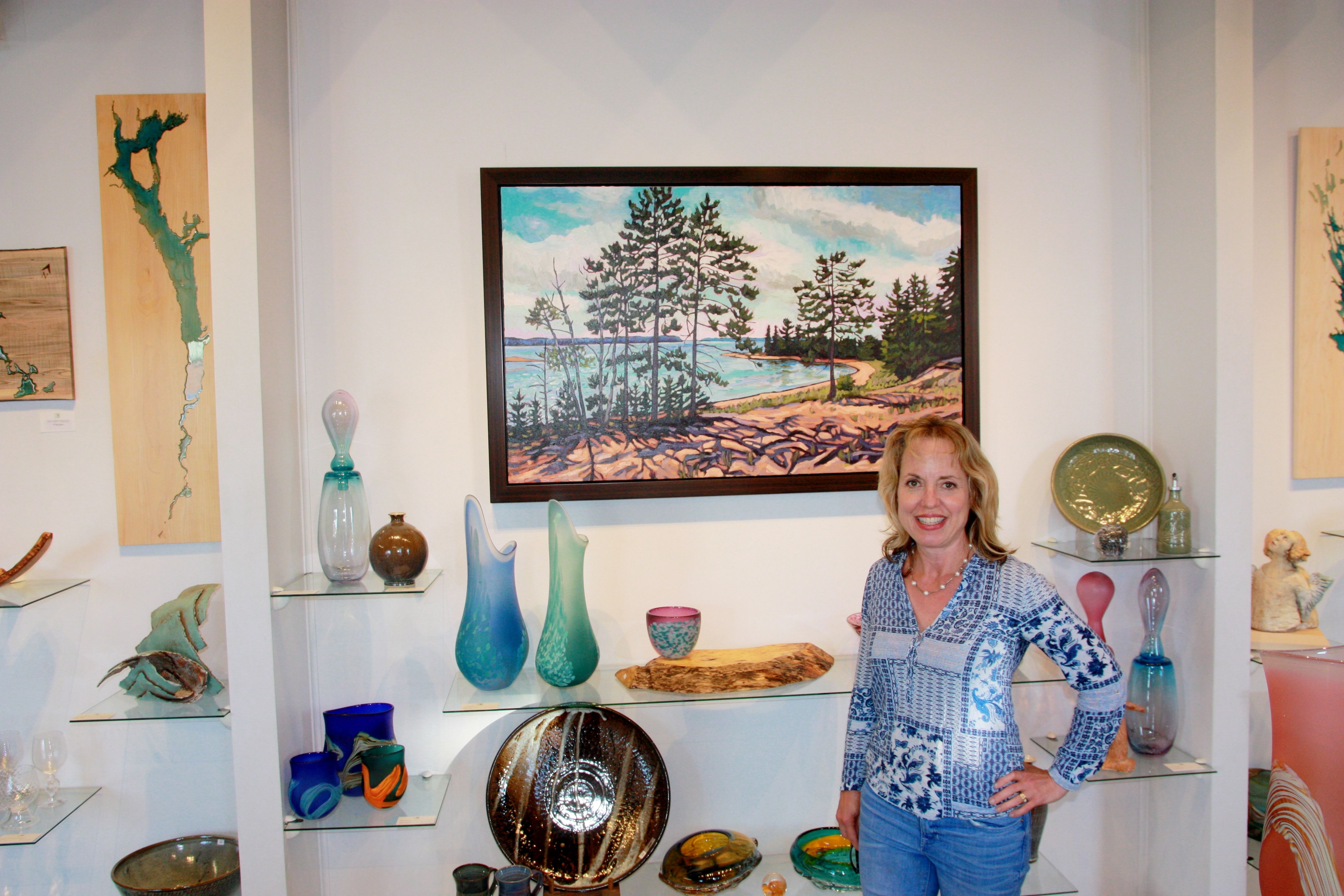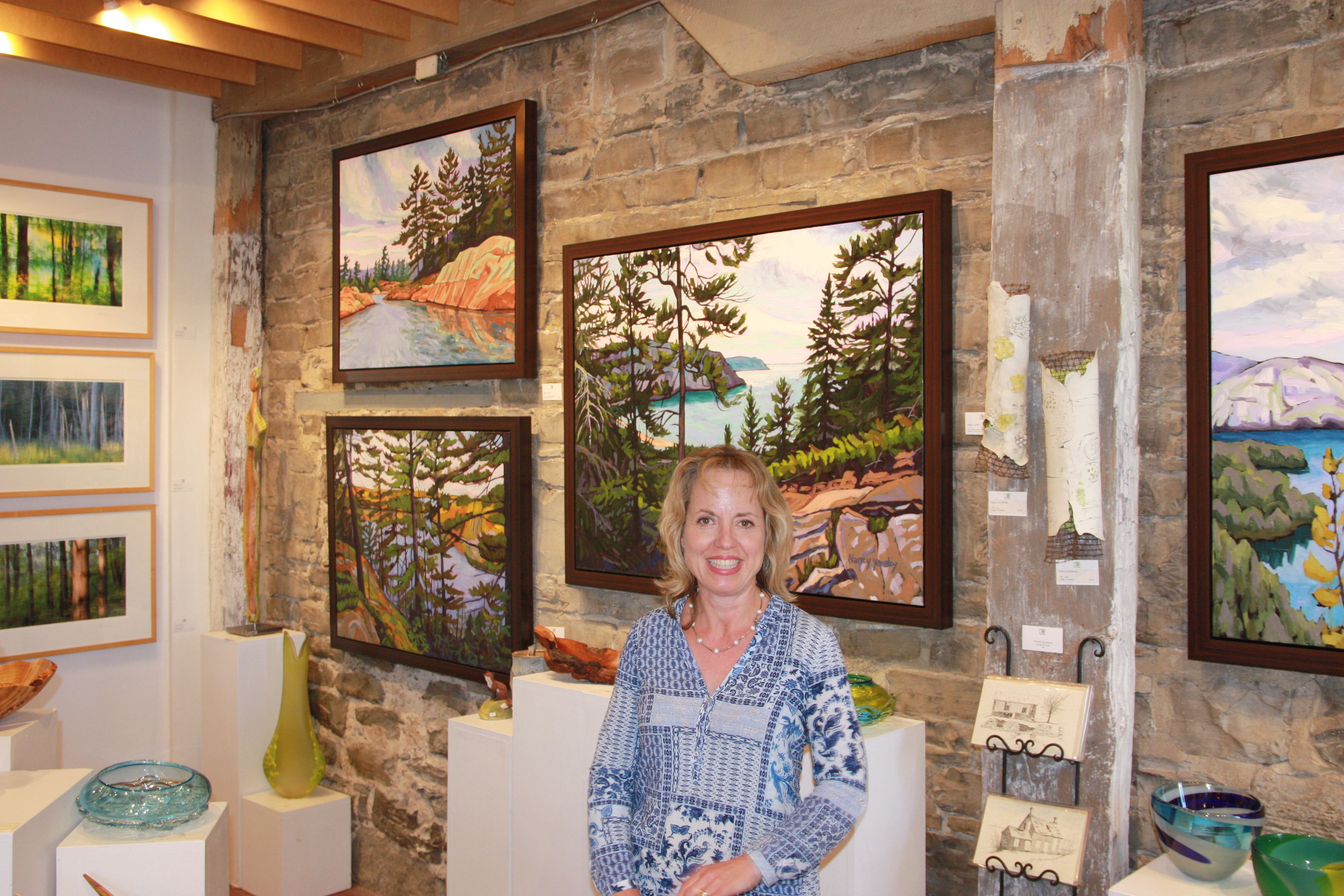 Early next month I will be headed out for a little canoe trip with my sister Tanya to Algonquin Park. After years of kayak trips in Georgian Bay, we decided to try something different. With the heat we have had so far this summer, the water should be warm for swimming. After the canoe trip, my husband, dogs and I will be headed out to camp in a rented trailer around Espanola area and are hoping to visit my eldest son David. I am hoping to find some good hiking trails with pretty lookouts for painting.
Enjoy every minute of the summer, while it lasts!