September/ October 2014 news
This September I returned back to full-time work teaching, after a six month sabbatical. It was definitely a bit of an adjustment for me, but I am enjoying the times I get to help kids be creative during our art activities.
While visiting a September outdoor art show during the Scarecrow Festival in Napanee, I picked up an Arts and Culture brochure being handed out by the town and opened it up to see a photo of me a with two of my paintings from Synergy Artisan Gallery! I was not aware this brochure had been created. It did make me feel proud!
During one weekend in October, I drove up to Algonquin Park with my daughter, our dogs and a friend, to catch the beautiful fall colours changing and take some photos for future painting reference
Towards the end of October I participated in a weekend painting workshop with Canadian landscape painter Gordon Harrison at his residence in Ottawa. It was a ton of fun as usual. I created a Georigan Bay scene of a interesting, rocky island area I saw while kayaking near Killarney last July with my sister Tanya.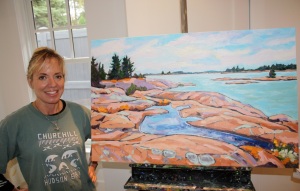 With many beautiful Georgian Bay images still in my head from my kayaking trip, I also completed a vertical painting of a breathtaking lookout near Killarney that I feel quite happy with. I called it Killarney Smooth Rock Views 2. Until next time, happy painting!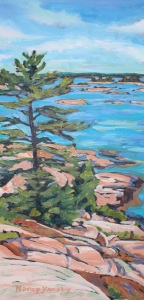 Killarney Smooth Rock Views 2