This is one of my favourite times of year. Longer daylight hours, the bright greens of the new leaves opening up and all the spring buds and flowers. I just love the flowering apples, crab apples, magnolia and lilacs….so fleeting, but so gorgeous and some enchanting fragrances. 
Here are a couple spring photos that I took as possible painting references:
Tulips by Napanee River: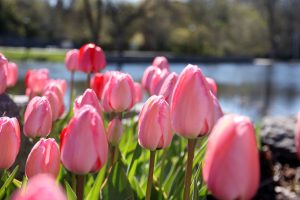 My youngest border collie, Chico at Conservation Park, Napanee.
(I liked the tree shadows):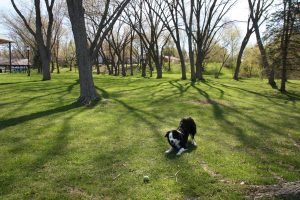 Here are a couple of spring palette paintings that I have been working on:
Hyacinth 2, Oil, 12" X 12"
Killarney Lookout in Spring, Oil, 24" X 36, "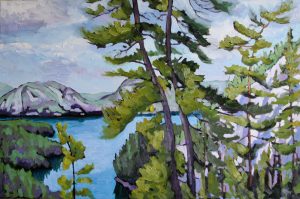 I am excited to announce that this coming summer season my work is being represented by a new gallery for me in Muskoka. Red Canoe Gallery in Port Carling will be taking some of my work.
http://www.redcanoegallery.com/
I will also be participating in the beautiful outdoor art show, Art Among The Ruins, on Saturday, June 18th , in the village of Newburgh (between Napanee and Kingston) . This is a stunning show that is free to attend with gorgeous gardens, and the gushing Napanee River in the background, live music , fruit trays and a juried selection of fine artisans. Hope to see you there!
http://www.artamongtheruins.com/