Well my thoughts are turning from painting snow to painting more spring -like images. This may partially have happened, as my husband and I were lucky enough to head off for a late 25th anniversary trip to sail around the British Virgin Islands for my March Break!
We drove down to JFK airport in New York City to catch a cheaper direct flight to St. Thomas and then a ferry to Tortola where we met our sail boat. (not actually our boat, but a catamaran that we chartered with a captain and a cook and another couple) I have to say the British Virgin Islands were beautiful and the thing that I will never forget is the stunning aqua- coloured waters around BVI's only coral atoll, Anegada.  The colours of Anegada seemed almost artificial as they were so vibrant. Most of the islands  in BVI look mountainous and are volcanic, but Anegada is flat and has some of the best beaches and quite good snorkelling. I have always been attracted to water, but I have to say the colours of Anegada were so inspiring, they seemed like a dream. I think I am going to have to do an ocean-inspired painting from this area….maybe even one with a sail boat.
Photo: Sailing to Anegada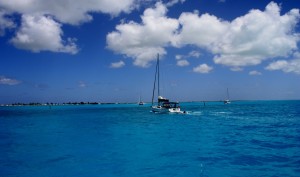 Photo: Pelicans at beach in Anegada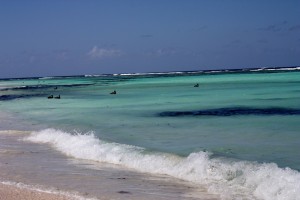 During March, I also had 2 of my Killarney painting in the Gordon Harrison Apprentices Show in Ottawa. I also completed a summer painting that had been on my mind from a photo I took last summer of seagulls fleeing off a rocky area in Georgian Bay, as I approached with my kayak. I am really happy with this image. I started off with an oil base coat of a warmer pinky colour and then did my sketch on top with some darker thinned -out oil paint.
Down By The  Bay. Oil 24" X 36"