Summer weather finally arrived in September this year! Our whole family did more swimming in September than we did all summer, with the cooler rainy summer we had.
In August,  I had a shared show open at the Kingston Glass Studio & Gallery.
Here is a photo Dave snapped of me with my Rock Dunder painting before it sold, later that night.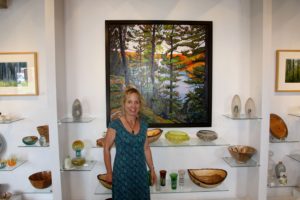 I dropped by the gallery the night before I headed out on a camping trip. Dave and I, along with our 2 dogs rented a trailer and drove along the north shore of Lake Superior on a 2 week camping trip. I wanted to get to a National Park that we had never been to, in honour of Canada's 150th birthday. Along with a few provincial parks, we were lucky to secure a site at Pukaskwa National Park for a few days and got to enjoy some beautiful hikes , as well as some time exploring the area outside of the park.
Here are two of the stunning views from Pukaskwa: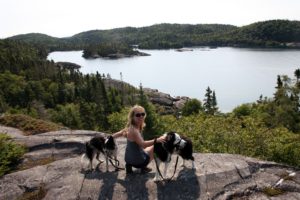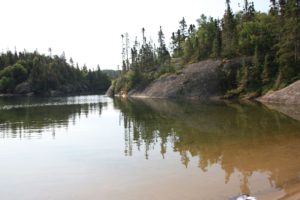 After talking to a park person at Pukaskwa, we ventured out to find an abandoned fishing village called Coldwell. Coldwell was a place where Lawren Harris had painted. It was not even on the map and we had walk over long grass and cross railroad tracks to get to it. When we got there we were awarded by a beautiful bay with dramatic cliffs on either side.
Coldwell Bay: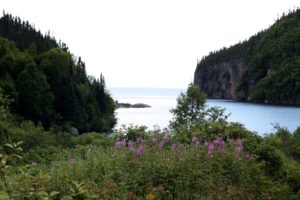 After camping at Pukaskwa, we went to Rainbow Falls Provincial Park. There I did a day kayaking trip out of the little town called Rossport. We kayaked to an island called Battle Island where there was an old light house high up at the top of some rocky hill. I found out that the light house had his windows blown out by a storm and the waves, the same night the Edmund Fitzgerald sank on Nov. 10th , 1975
From Rossport, we went to Agawa Bay in Lake Superior Park, where we did a very scenic hike called Nokomis. The Nokomis trail inspired me to do a few paintings, which I may turn into a series.
Dave, dogs and me on the Nokomis trail looking down at Old Woman Bay: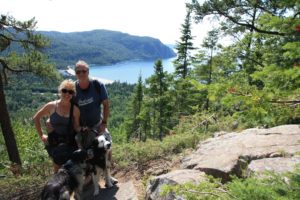 At the end of August I went on a painting workshop with my daughter Madelaine and a bunch of my painting buddies to Prince Edward County to paint with artist Sheila Davis for 2 days. We had a great time learning about her techniques, as well as exploring Wellington area wining and dining.
In September, I returned to work, teaching Special Needs students at our local high school. I do a lot of art activities with the kids and it is always a challenge trying to figure out where I will get the financing to purchase the needed art materials.
Also in September, Dave and I were lucky to have a weekend away in Algonquin Park and we stayed at an old lodge called Bartlett Lodge, where you have to be picked up by boat to reach the place. I had a great time taking the kayaks out to explore Cache Lake. The fall leaves had just started to turn and I am sure I got a few shots that I will be able to use for painting. We also did my favourite trail, Booth's Rock to take in the gorgeous lookouts.
Morning views from Bartlett Lodge, Cache Lake, Algonquin Park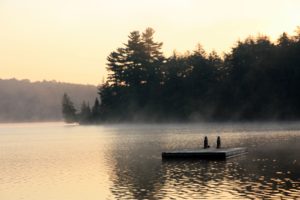 Heavenly views at Booth's Rock trail, Algonquin Park: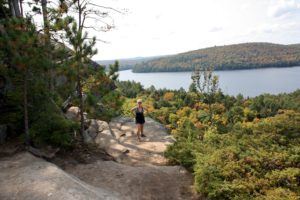 This fall I was also in two different shows at the Manotick Framing and Gallery with some other artists who had painted with Gordon Harrison. It is always so much fun to see what everyone has been up to and creating. We all went out for dinner afterwards at both openings.
Manotick Framing and Gallery Apprentices Show, Sept. 2017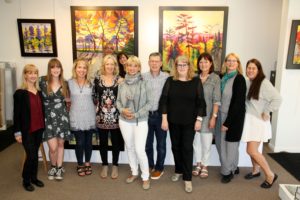 In November, I also participated in an art show run by the Greater Napanee and Area Arts Association with the theme Canada 150. The show is currently hanging at Zenergy Artisan's Gallery in Napanee until January 30th, 2018. My painting entry, French River Lookout 2, received an Honourable Mention.