I am excited it is summer and have been enjoying getting away from the daily grind and living by my own schedule. I love being awakened by the sunlight as opposed to a loud alarm clock.
Earlier in the summer I completed a large 30" X 30" painting of Magnolias in Central Park. I had done a smaller version of this painting and people expressed an interest in a larger format, so I thought I would give it a try.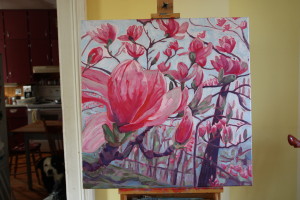 In July, I have been so fortunate to be able to attend to two fantastic workshops. I tried my hand at a mosaics workshop at a place called Thyme Again Studio, in Brockville, Ontario. Here is a photo of the fish I created.
Also in July, I went to an art retreat in the Laurentians of Quebec, at the lake house of Canadian landscape painter, Gordon Harrison and Phil Emond. What an amazing setting and experience. Stunning location, fabulous people and a time to be creative for 4 days or so. This is the 4th summer retreat Ihave participated in and I look forward to it all year!
Here are a few photos from the retreat.
My Thousand Island painting 24" X 36 ."
My PEI sunrise beach scene. 24" X 36"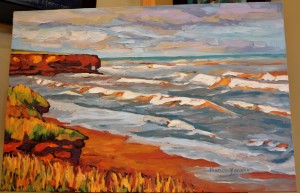 View from upper deck of Gordon Harrison's Pine Point Lake House, Quebec.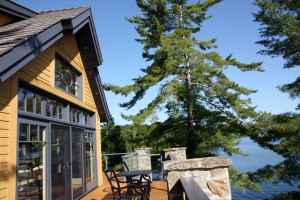 Gordon and me by one of his incredible landscape paintings: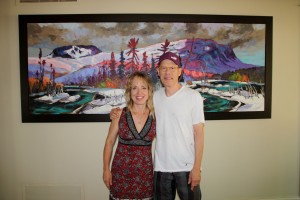 Shortly I will be heading off to Cypress Lake Provincial Park in the Bruce Peninsula and hope to get some painting inspirations of the coastline of Georgian Bay there. Our family will also be doing some white water rafting on the Ottawa River for a few days, so hopefully I will live to tell about that! Enjoy every moment of your summer while it last!