Life continues to be busy back at work teaching full time, working with students with developmental disabilities. Each week I try to incorporate some art activities, as the students really look forwards to it. I find students who cannot always read or write, especially benefit from the opportunity to be creative and successful participating in art activities.
My own daughter Madelaine has taken up painting pet portraits in bold acrylic colours on canvas and they look really fantastic. Here is one she is working on of our border collie puppy named "Chico."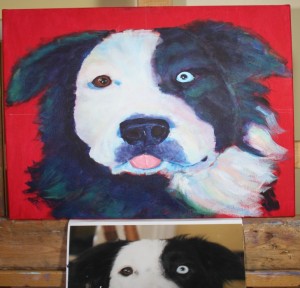 Last month I worked on doing a commission of sunset in Varanasi  in oil, which was a completely new subject matter for me to paint.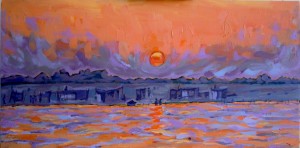 This month I got the urge to paint a winter scene that I had seen last March Break on a ski trip to Quebec. I think I will title it Quebec Winter House. I really love all the blue and purple reflections you see in the snow on a sunny day….just beautiful.