Everyone was wondering what the leaf colour would be like this year after the dry summer we had. It turned out to be gorgeous! I started taking fall photos in Muskoka and Algonquin Park at the very beginning of October and am still taking shots in my area of Napanee closer to the end of the month.
This fall I returned to work as a teacher of School To Community (special  need) high school students at our local high school. I really enjoy doing  art activities with the kids when I see what joy it brings them.
My husband Dave and I took a little weekend away in Muskoka at the beginning of October and enjoyed going  on  part of the Fall Muskoka Studio Tour, as well as dining  out in Gravenhurst  and going on a boat tour of Lake Rosseau.  We really appreciate little getaways to break up our day to day work routines. I really feel the cold, and was amazed that Dave and I were able to dine outside at  waterfront steak restaurant on a heated patio…it was fantastic! I was also on the lookout for some autumn photo opportunities for painting inspirations. The Red Canoe Gallery tells me that many people want fall colour paintings, so I wanted to get a few shots of Muskoka in the fall. While driving around exploring I was so excited to find one specific fall  tree in Port Sydney that I have painted a few times as well as painted with my students at school. My husband couldn't believe that we actually found this one tree in all of Muskoka!
Here is a photo of me standing in front of my tree in  Port Sydney: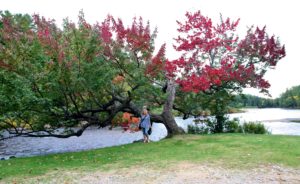 Here is a charming boat house on Lake Rousseau that I am going to paint this fall. It was interesting to see that the colours around the lake were later and had not changed as much as they had just north of there in Algonquin.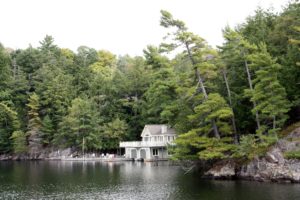 We decided to drive north and home through Algonquin Park and were rewarded by some beautiful scenes, despite the rainy day.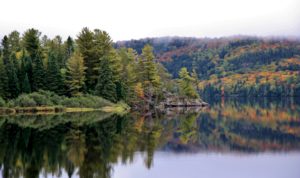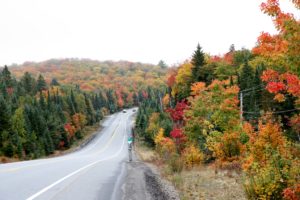 While my daughter, Madelaine was home visiting for Thanksgiving weekend, we went on a new  local hike for us just north of Kingston called Rock Dunder that provided a gorgeous lookout  of the Rideau Waterway. Here is a shot of Madelaine, our dogs and me at Rock Dunder: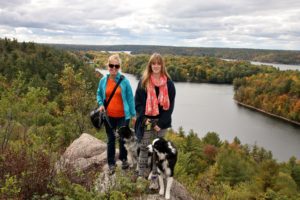 Towards the end of the month I took a weekend drive north of Napanee to take in more of the fall colours and found some very pretty country roads and lake scenes on Lake Mazinaw.
Country road near Tamworth:
Birches on Lake Mazinaw: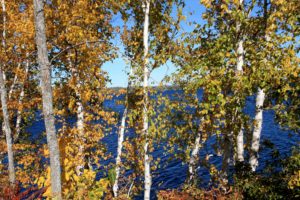 Now I have lots of fall painting references to keep me busy! I just hope I am able to find some hours with sunlight to enable me to paint. I like to paint in sunlight as it lets me see the colours accurately….a little challenging during our darker winter months. Enjoy the last of our beautiful fall season while it lasts!