Well summer seemed to fly by and now it had been a month being back at school.
I really had fun yurt camping at Cypress Lake Provincial Park, near Tobermory on the Bruce Peninsula. It was really like luxury camping having a roof over our heads, a large deck with a barbeque as well as a fire pit.
The hiking along the coast there was just fabulous. Gorgeous water colours and stunning cliff views. I had to get up early at sunrise to hike down to the shore to get a few shots without a ton of people in them.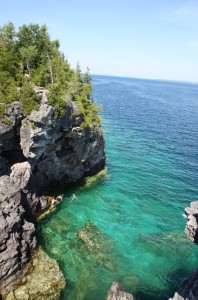 Just me and the seagulls! A few hours later there were 100s of people!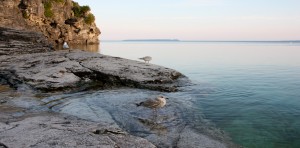 August I produced a few new paintings from the Thousand Islands and Georgian Bay areas.
Island Views, Oil, 30" X 48"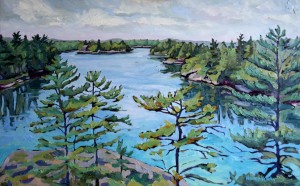 Georgian Bay Lookout, Oil, 30" X 40"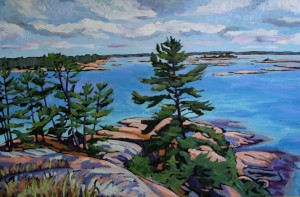 In August, my husband Dave and I had a weekend getaway to Tremblant area of Quebec, where I entered a painting in an art show called Expo d'Art (apprentices of Canadian landscape painter Gordon Harrison) at a Bed and Breakfast called Plumes et Glisse. The show runs until October 12th.
Here is a view from the top of Tremblant: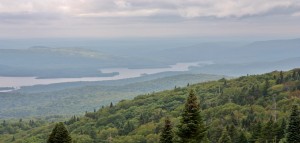 In September, I returned to work teaching students with Developmental Disabilities at our local high school. I managed to complete another Georgian Bay scene that I saw while kayaking with my sister last summer. We were caught in a cold rain storm and this was the pretty view from our campsite as the storm lifted.
I am calling it: Storm Lifting On The Bay. Oil, 24" X 36" I did a magenta underpainting, and still need to sign it!
I am looking forwards to seeing some of the fall colours next month and hopefully getting a few hikes in before the cold comes.