AUGUST UPDATE
During the month of August I became a tour guide for our French Exchange student Chloe. Chloe was from France and we wanted to show her as much of Canada as we could. I believe she had a good time exploring Canada with our family.
We decided to go on a Maritime family camping trip and on our first day of our trip, we picked up a new addition to our family! Our new border collie puppy is named Chico. He is black and white and has one blue eye. His first two weeks with us were spent visiting various ocean- side spots in Quebec, New Brunswick, Nova Scotia, and PEI. One of our weeks we rented a cottage in the Bay of Fundy on the island of Grand Manan, New Brunswick. It was in a charming fishing village called Seal Cove. We did some kayaking and whale-watching there…such a quaint place, with very friendly people. We hoped that Chico would not be disappointed when we returned home and he realized that we did not have an ocean in our backyard!
Chico at Cavendish Beach, PEI
I took a ton of photos on our trip and found many painting inspirations that I hope to pursue in coming months. September 2nd I started back teaching full time at our local high school, so this will make it a little more challenging for me to paint as often as I would like. The creativity of painting brings me such happiness that I will be sure to schedule some painting time.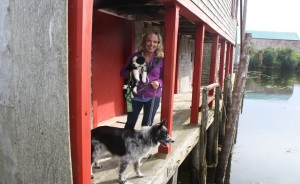 The dogs and I at the fishing village of Seal Cove, Grand Manan, New Brunswick.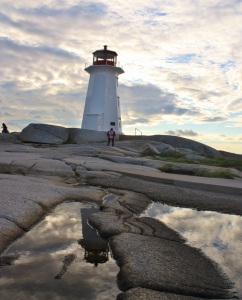 Peggy's Cove reflection, Nova Scotia