Summer 2016 
Summer, one of my favourite seasons! I just love being outdoors swimming in lakes, kayaking, camping , star and sunset gazing as well as looking at beautiful gardens.
This past June I participated in the lovely outdoor art show called Art Among The Ruins in Newburgh, Ontario. It is such a gorgeous show set on a stunning property with a gushing river running by, gardens, and live music.
Here is a photo of my sisters and me at my booth: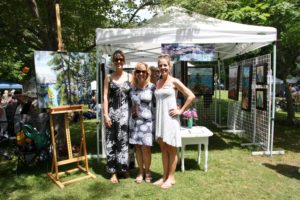 After participating in this show, I was picked up by a lovely Kingston Gallery called Kingston Studio and Glass Gallery.
http://www.kingstonglassgallery.com/
I am also now represented by The Red Canoe Gallery in the lovely Muskoka cottage town of Port Carling.
http://www.redcanoegallery.com/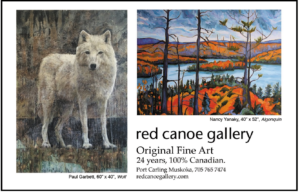 This July I was fortunate to be able to go on another Georgian Bay kayaking trip with my sister Tanya. This year we paddled from the town of Britt on the Magnetawan River , north to the Hartley Bay Marina on the French River.
This was a 5 day paddle and we really lucked out and got great weather this year with only one afternoon thunderstorm, where we paddled over to shore and hid under a tarp to wait out the storm.
Here is a photo I took of a marsh near Britt that I am thinking about painting: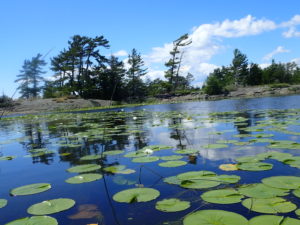 Here are some views of what it looked like where we camped: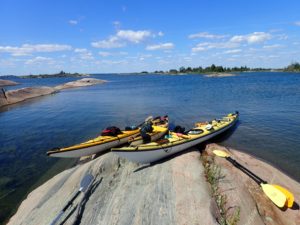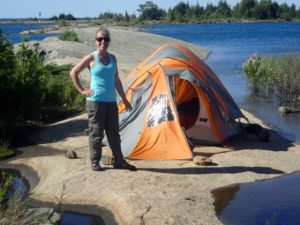 For the first week of August my family rented a houseboat on the Trent Severn Waterway and had a lot of fun sailing between Bobcaygeon, past Lovesick Lock Buckhorn, Burleigh Falls, through Hell's Gate, (near Stoney Lake) and Young's Point.
I took  many photos and have lots of painting references.
Islands at Hell's Gate: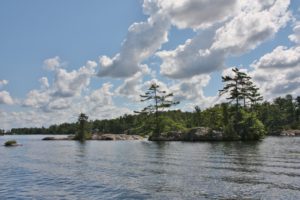 Morning reflections at Lovesick Lock: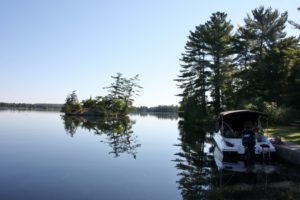 Next week I will be headed up to the lake house in the Laurentians  of Canadian landscape painter Gordon Harrison and his partner Phil Emond for an art retreat.
This is something I look forward to each summer!…such a stunning setting, great people and lots of creativity. This year I am bringing my daughter Madelaine along, as a graduation present.
Enjoy the rest of the summer while it last!