This has been a fun month socially for me. On Thursday June the 12th I attended the grand opening of Synergy Artisan Gallery in Napanee. The place looked fantastic andis showcasing a handful of my paintings. On Saturday June 14th, I participated in the charming outdoor art show: Art Among the Ruins in Newburgh. It was a lovely show with over 60 artist displaying their art along the banks of the Napanee River, with the sounds of the river gushing past. There was a great turn out and I had a ton of positive response to my painting. Thank-you to all who visited my booth and your positive feedback.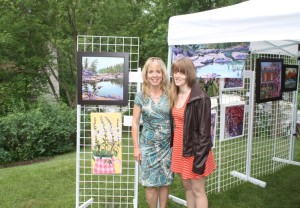 .
The following Sunday morning I drove to Toronto to attend the 27th Annual Through The Garden Gate garden tour put on by the Toronto Botanical Gardens. My sister Lexie was volunteering at one of the gardens. This year the tour was in an area called Hogg's Hollow near York Mills and Yonge St .It had pretty hillside properties with mature trees and a river running through. There were many inspiring gardens and great design ideas.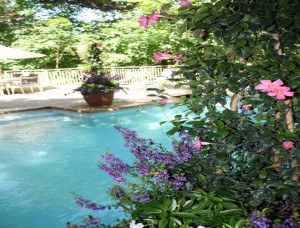 This past week I was invited, along with two other friends Linda and Jill to my friend Julie's lake house on the Rideau system near Perth, Ontario. She had a stunning property that had three sides on the water, with two dock areas, so we could move around the property to follow the sun. We decided to attempt Plein Air painting by Julie's marsh area. It was a lot of fun, especially listening to the loons and water sounds….so peaceful. We also had fun drinking wine, eating fantastic food (we did potluck), looking at art books and discussing art.